Geomap Facility Management System
GEOMAP FMS: Advanced and Innovative Software for Real Estate and Facility Management.
Real Estate, Facility and Technical Components Management
---
Each property, building system, and technical component is managed in the information system through a dedicated data sheet containing all the relevant information.
Each data sheet provides a summary of all the relevant data, position, maintenance plans, maintenance activities performed, related documents, etc.
GEOMAP Software manages each asset through a data sheet containing all the property technical and maintenance information.
GEOMAP Software manages each component through a unique data sheet containing several information such as technical, maintenance, and geo-location information.
GEOMAP Software offers unique features for an efficient documents management and deadlines reminder (for instance, fire safety certificate).
Once GEOMAP Qr-code and/or Rfid labels have been applied, users can read them to get the asset information or request a corrective maintenance activity.
Preventive and Corrective Maintenance Management
---
GEOMAP Software streamlines and automate Preventive and Corrective Maintenance processes to proactively maintain critical assets, minimizing downtime and repair expense.
GEOMAP Software counts on unique features that allows an efficient and user-friendly management of corrective maintenance efficiently.
GEOMAP Software creates and automatically optimize the preventive maintenance calendar.
When a maintenance task is approaching, the system notifies all stakeholders with all the relevant information, such as technical one, place and date of intervention, components, etc.
GEOMAP Ticket System Management register the assistance request of the users and turns it into a ticket that's assigned to a technician, who close the ticket when the problem is fixed.
Analysis tools, tracking, and many more features are available to the facility manager.
GEOMAP Software track assets and workflow side by side in order to identify needs and measure the results.
Service Level Agreement and Key Performance Indicators charts are available at any time to the facility manager.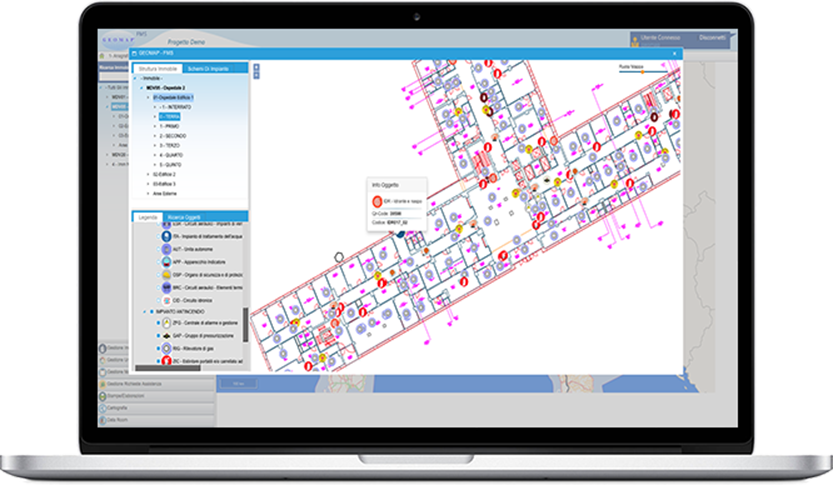 Ogni oggetto è visibile e interrogabile direttamente in planimetria.
Asset Geo-Location
---
GEOMAP Software allows to visualize the exact location of assets and technical components by associating a geographic location with GPS coordinates. Instant awareness of the location where maintenance activities have to be performed.
Each asset/facility/technical component is geolocalized in a floor plan and/or cartography.
GEOMAP Software enables to navigate within the assets as well as to be driven in the execution of the activities.
GEOMAP Software is compatible with BIM formats and it enables processing of BIM data.
Other Modules and Functionality
Up-to-date maintenance activities information always available for the facility manager.
The technicians will receive in real time a list of activities to be carried out and all related technical information.
Customer Perspective: Instant information about services provided.
Property and human resource management and streamlining.
Solutions for Every Industry
GEOMAP Added Value
Completeness, Customization and Integrability
We provide end-to-end, customized and integrated solutions.
Our in-house developed Software can be easily customized in order to fit the Customer's needs.
Moreover, we integrate our solutions with all the preliminary services required to provide a complete and ready to use solution.
Customers & Installations
320
International Clients