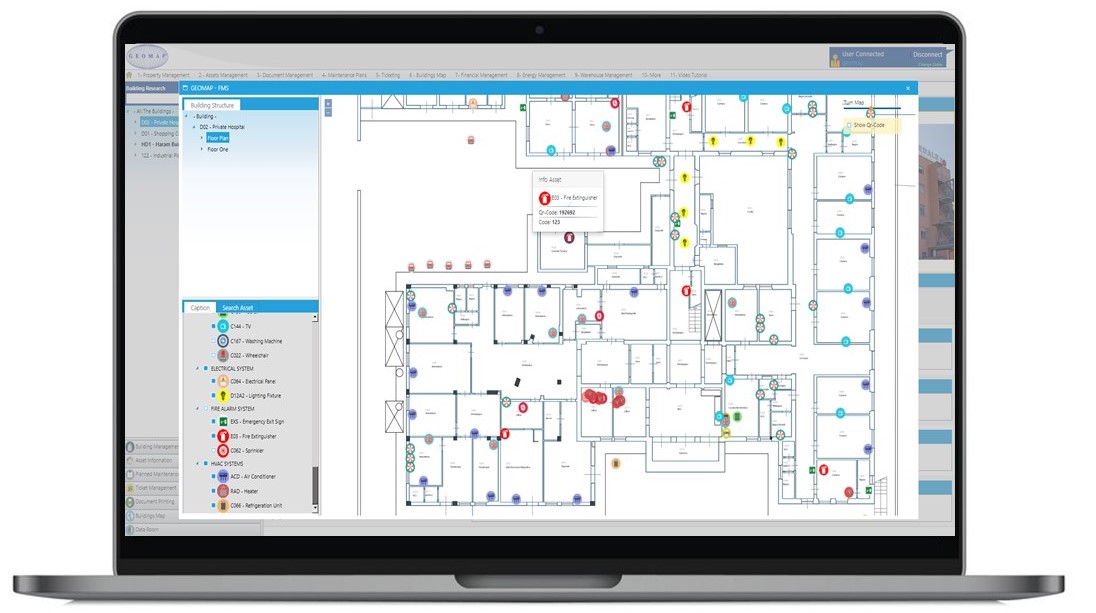 5 Reasons Why Your Business Should Use Facility Management Software
Running and managing different building facilities can be a tough task if you have to do it the traditional way. You have to maintain and manage multiple building systems (some examples are HVAC, security, alarms, elevators), keep a clear communication channel with your occupants, and ensure all spaces are utilized efficiently and effectively so that you can maximize your profit.
It's one thing to keep all building systems working harmoniously. Making sure that risks to occupants and customers are eliminated and then keeping all facilities sustainable are two different things entirely. With Geomap platform, facility managers are able to put and manage them all and more into a single, manageable web-based dashboard.
Instead of running around with checklists and risk missing and misplacing maintenance requests, everything is centralized, repetitive tasks are automated and resources are strategically assigned and utilized so you and your team can perform all your functions pertaining to maintenance and repair of your facilities at an efficient and productive level.
Here several reasons that underline the usefulness of a facility management software to your business.
1. Streamline Repair and Maintenance Tasks
Property managers and store owners want to devote their energies driving customers to their business and generating sales. They certainly don't want to be stuck with equipment issues and system failures.
With a facility management solution, they are able to monitor the status of their facilities and assets in real-time. With GEOMAP IWMS (Integrated Workplace Management System), they can set repair and maintenance schedule for their systems ahead of time and automate the issuance of the maintenance/repair request to their contractor partner when specific conditions are met or certain triggers are activated.
Property managers and business owners no longer have to spend more time working with repair and maintenance personnel. They can easily manage requests using GEOMAP IWMS. The software provides repair and maintenance partners with all the details, getting them started with the information they need so they can fix the issue as quickly as possible.
2. Prolong Service Lives of Systems and Assets
Geomap platform helps users get the most of our their assets and maximize its value to their business. It comes with asset management tools and capabilities.
When your systems are properly and regularly maintained, they tend to run longer and operate at an efficient level. Geomap software provides you with maintenance reports as well as analytics, helping you determine the best time to schedule repairs, preventive maintenance, or replacement for your systems or facilities. This helps prevent system downtime and increase productivity, resulting in a bigger return on investment.
3. Make Buildings Energy-Efficient
Commercial and industrial buildings run multiple facilities and systems in order to operate. Systems like HVAC, water filtration, lighting, and more require lots of energy, all of which translates to a huge chunk of their operational budget.
The good news is that Geomap software solution can be used to find ways to make critical facilities and systems energy-efficient. You can perform an extensive energy audit to determine which systems are using up more energy, discover potential issues that contribute to energy wastage, and identify solutions to keep them running at full operational efficiency while requiring less energy.
4. Optimize Layout and Installation of Critical Systems
As mentioned earlier, critical facilities for buildings such as HVAC, elevators, waste treatment, water filtration, and more can cost businesses large sums of money for installation alone. Imagine the running expenses your business will incur if these systems were installed using substandard materials or laid out in a way that can hamper performance.
Performance reports, energy audits, and analytics Geomap IWMS provides facility managers, architects, building designers, and system installers a comprehensive picture of the whole facility. This functionality allows them to work on a more optimized layout for system installations, guaranteeing efficient performance and a higher return on investment.
5. Monitor and Manage Facilities in Real-Time
Facility managers are not always on-site. However, thanks to advances in mobile technology, they can access the facility management dashboard wherever they are. Geomap software is optimized for mobile platform, enabling users to make a quick look at the status of their facilities, schedules for repairs, maintenance reports, and more via a smartphone or tablet.
Technology on the Rise
The facility management software market is on the rise and adoption by companies is becoming wider and deeper.
According to several market research the facilities management market was $35.92 billion back in 2018. The value of the industry is expected to rise by as much as $72.43 billion by the end of 2024.
Increased expenditures on infrastructure, along with the demand for energy efficiency and process optimizations, drive the growth of the facility management market. Don't fall behind the digital transformation and get in touch with us to benefit of Geomap software solution.